Berufsbegleitendes BWL Studium
Du stehst bereits mit beiden Beinen im Berufsleben und möchtest dich trotzdem noch durch ein Studium weiterqualifizieren? Egal ob Bachelor oder Master – das BWL Studium ist in vielen Varianten auch neben der Berufstätigkeit studierbar. Hier erfährst du alles, was du über ein berufsbegleitendes BWL Studium wissen musst!
Betriebswirtschaftliches Fachwissen wird heutzutage immer wichtiger. Nicht nur im Management und in der Wirtschaft sind solche Kenntnisse gefragt, auch in vielen fachfremden Branchen und Unternehmen ist betriebswirtschaftliches Know-how nicht mehr wegzudenken. Statistiken lesen und auswerten können oder das Personal führen, sind dabei nur einige entscheidende Aspekte. Aus diesem Grund gewinnt das berufsbegleitende BWL Studium immer stärker an Bedeutung.
Du hast deine Berufsausbildung abgeschlossen und bist schon vollständig im Job tätig? Dein Beruf macht dir Spaß, aber du möchtest auf der Karriereleiter den nächsten Schritt nach oben machen? Oder willst du dich nach deinem ersten Studienabschluss nochmal weiterentwickeln und hast dich dazu entschieden ein Masterstudium dranzuhängen, bist aber schon berufstätig? Alles gar kein Problem – das berufsbegleitende BWL Studium öffnet dir zahlreiche Wege!
Berufsbegleitendes Studium – Was ist das?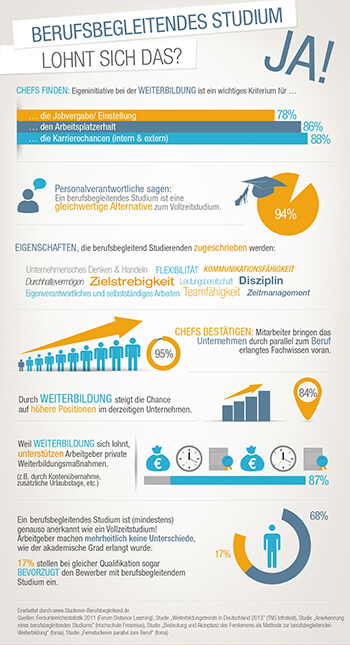 Berufsbegleitend studieren – was bedeutet das eigentlich? Ganz einfach: Du erarbeitest dir neben dem Job noch einen akademischen Abschluss, in dem du ein voll anerkanntes Studium absolvierst. Dies ist in unserer Gesellschaft von erheblichem Vorteil. Der Studienabschluss unterstützt dich in deiner Karriereplanung und du kannst in deinem Job eine verantwortungsvolle Position übernehmen. Zudem eröffnet dir ein solcher Abschluss mit betriebswirtschaftlichen Kenntnisse auch die Chance die Branche zu wechseln und dich nochmal neu zu orientieren.
Weiterbildung sind heutzutage von unschätzbarem Wert und aus der Berufswelt nicht mehr wegzudenken. Ein akademisches Studium neben dem Job zu absolvieren, zeigt nicht nur deinen Ehrgeiz und deine Zielstrebigkeit, sondern auch, dass du belastbar und engagiert bist.
Dabei richtet sich das berufsbegleitende BWL Studium nicht nur an Menschen, die bereits eine kaufmännische Berufsausbildung abgeschlossen haben, sondern kann je nach Hochschule und Anbieter auch problemlos von branchenfremden Studieninteressenten absolviert werden.
Im BWL Studium erhältst du eine fundierte akademische Grundausbildung zu betriebswirtschaftlichen Themen, mit der du bestens für den Arbeitsmarkt qualifiziert wirst. Wenn du dich mehr für ein berufsbegleitendes Masterstudium interessierst, weil du schon einen Bachelorabschluss hast, durch den du bereits in die Berufswelt eingetaucht bist, dann eröffnet dir der Abschluss neue Stufen auf der Karriereleiter und in Führungspositionen.
Wichtig dabei: Das berufsbegleitende BWL Studium ist in der Regel absolut anerkannt. Bachelor ist immer gleich Bachelor und Master gleich Master. Achte bei der Wahl deiner Hochschule nur darauf, dass du einen offiziellen Bachelor of Arts/Bachelor of Science oder Master of Arts/Master of Science Abschluss erhältst, dann gibt es mit der Anerkennung keinerlei Probleme.
Diese Lernmodelle gibt es
Wir haben deine Optionen für ein berufsbegleitendes BWL Studium ausführlich zusammengefasst. Bei uns erfährst du alles über die einzelnen Modelle:
Fernstudium
Zeitliche Flexibilität und Ortsunabhängigkeit mit einem BWL Studium verbinden? Mit einem Fernstudium kein Problem!
Berufsbegleitendes Präsenzstudium
Am Abend oder am Wochenende in die Hochschule gehen und ein BWL Studium absolvieren geht mit dieser Variante!
Warum sich ein berufsbegleitendes Studium lohnt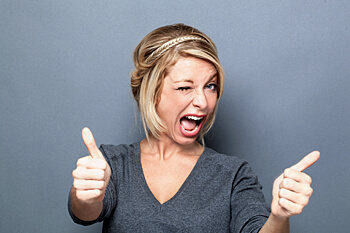 Du entwickelst dich fachlich weiter und wirst zum Experten in betriebswirtschaftlichen Fragen.
Du kannst neue Aufgabenfelder und Bereiche in deinem Job übernehmen.
Du hast die Chance, dich nochmal neu zu orientieren und kannst bei Bedarf den Arbeitgeber und die Branche wechseln.
Du entwickelst dich auch persönlich weiter, denn du lernst die Herausforderungen durch eine Doppelbelastung von Job und Studium zu meistern.
Du knüpfst neue Kontakte, die du in jeder Lebenssituation nutzen kann.